Friday evening, February 26, 2010, friends and family gathered together in The King's Academy theater for a wonderful evening of music and remembrance, paying tribute to Missy, whose love of people, music, life, and the Lord was celebrated.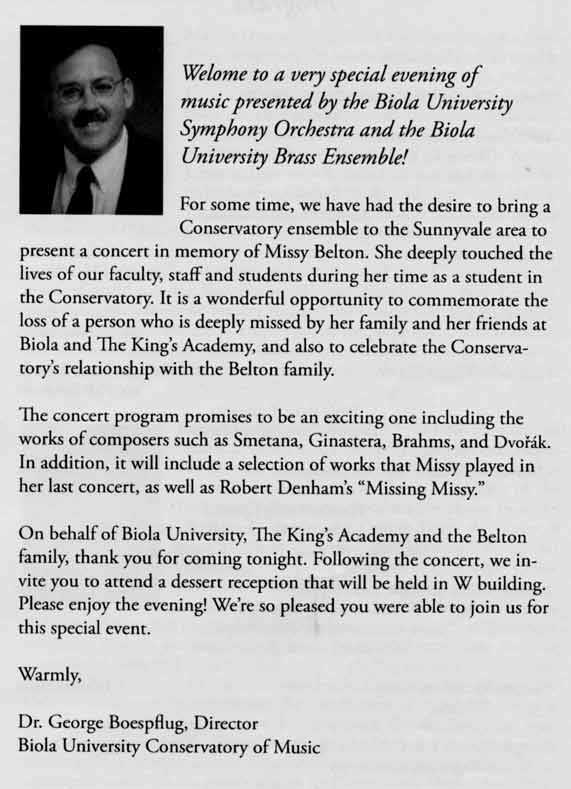 Those who knew and came to love Missy while she was at Biola were the instigators of this beautiful event, having desired for over one year hosting just such a blessed event, honoring Missy and showing love and care to her family.
Marlin Owen and Bob Feller, conductors of the Symphony Orchestra and Symphonic Winds respectively, had been Missy's conductors while she attended Biola. Both had come to love her for her musical abilities as well as her quiet beautiful strength of character.
The idea of having an English horn piece commissioned in remembrance of the tenth anniversary of Missy's death was conceived last year, and Dr. Robert Denham, Biola music composition faculty member, took on the project at Marlin's and Bob's request. He has written a piece that captures the emotions of Missy's life and passsing, the grief that ensued, and the hope we have in Christ, using the qualities of the English horn's hauntingly emotive sound itself combined with alterations in tempo and key to tell the story. The piece moves through the joy of Missy's life, the sudden tragedy of her death, the despair felt by so many of us, and on to the peace and hope found in Christ - we will meet again!
Due to scheduling conflicts, the Tribute Concert itself was delayed until this year, now almost eleven years since Missy's death.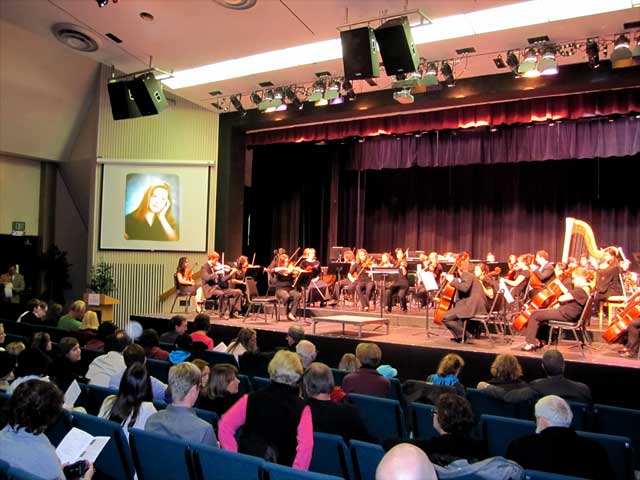 This special evening was well worth the wait! Family, friends, Biola alums, and others in attendance were treated to an emotional, exhilarating concert which celebrated Missy's life but even more brought glory to God.
The musicianship and programming was superb and was a testimony to the quality of the Biola music program, but equally impressive - to us as well as to our assembled family and friends - was the absolute kindness, love and caring that was expressed in the sum of all the parts of the evening - the words of affirmation from Dr. Boespflug; Marlin Owen and Bob Feller's inclusion of Missy so warmly throughout the program as they introduced each piece of music; the evocative English horn piece "Missing Missy" (which was played using Missy's English horn); a slideshow of Missy's life; and a fabulous dessert reception - each a memorable part of a magical evening for us all.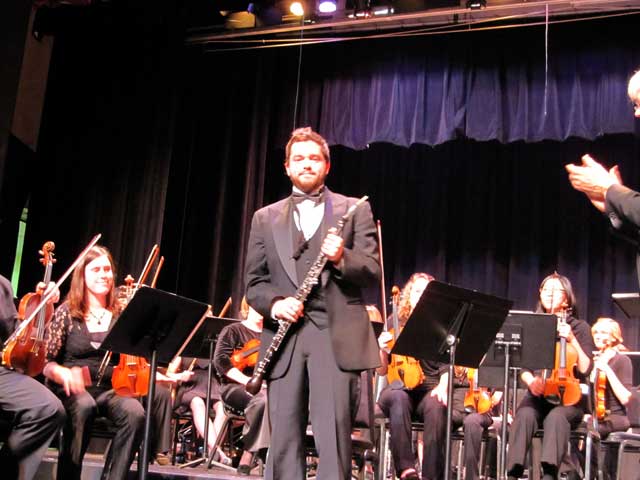 The slideshow depicting Missy's life was shown during the performance of Elgar's Nimrod variation and by the final measure there was not a dry eye in the house. The Nimrod variation by itself is moving to say the least. When performed against the backdrop of a memorial slideshow, it goes far beyond moving. It had actually been played at another memorial (by her youth orchestra - the California Youth Symphony) for Missy shortly after her death and has remained fixed in my mind with the deep emotions that were present at that moment, but whether you had ever heard it before or not, it evoked that indescribable sadness that has beauty interwoven throughout - a very special and holy moment.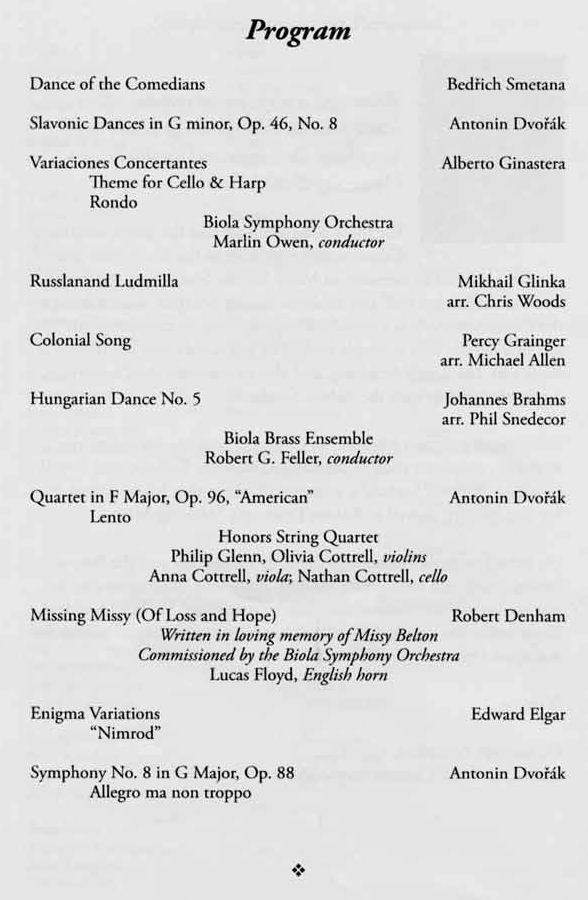 Mentioned already were the words of introduction for each of the musical pieces on the program (pieces largely selected because they were performed during Missy's tenure at Biola). Marlin and Bob blessed us all in the way they remembered various aspects of Missy's character as they related to each piece of music - strength, charisma, charm, wit, determination, beauty, shyness, ... These warm words of affirmation and caring reflected well the caring hearts of these men toward Missy and toward us - but also these words will be a treasure for us to retrieve and cherish in the future as we think of Missy.
The evening ended with a sumptious dessert reception hosted by The King's Academy. This was a great time of fellowship among family and friends. We were impressed and delighted to have many Biola musicians join us, engaging the audience in conversation, demonstrating another aspect of maturity beyond their musical prowess.
Here is part of a letter sent to the Biola musicians who traveled here with this gift of music:
"This was, of course, a tribute concert for a young lady that none of you had the opportunity to know - except through the stories you have heard from Mr. Owen and Mr. Feller. What I can add to the things they have already told you is this: Missy would have, firstly, been absolutely mortified to see herself showcased in the way she was Friday night! She shunned the limelight and far preferred being part of a team effort. You might recall the slideshow photo of Missy with her hand shielding her face from the camera - as photogenic, as well liked (and looked up to), and as charismatic as she was, that was our Missy, wanting to serve unnoticed."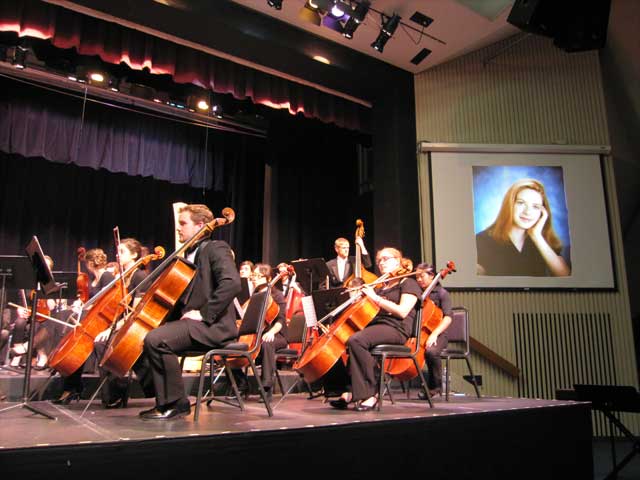 "But secondly, Missy would have been thrilled by the musical performance. She loved well played music - well directed, ordered, and well executed - and Friday's performance was all of those things. She would have been moved by "Missing Missy" - for she did love the English horn and its rich deep emotive sound when it is well played - and of course would have enjoyed the many pieces with prominent oboe parts, but also would have simply enjoyed the entire program. The mix of orchestral, brass ensemble, and string quartet works would have been very pleasing to her - the selections themselves but even more for the excellence with which they were performed. Yes, this would have been a program with which Missy would have been very proud to have been associated."
Following the piece "Missing Missy," Steve, Missy's dad, addressed the assembled guests with a few words from the family. After thanking the people at King's and Biola and the musicians, he observed the following:
"As we thought about this evening we were of course blessed by the thought of an event that honored Missy's memory, of an event at which beautiful music that Missy loved so dearly would be performed, that would bring together two of our favorite families - King's and Biola.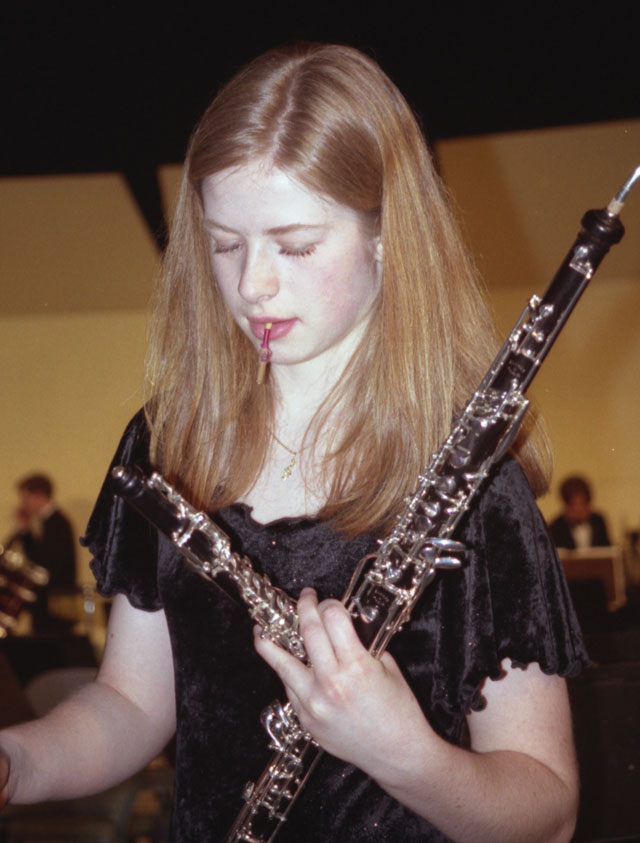 "But also we realized, and know that you do too, that there is so much more to celebrate than this - that there is something that goes far beyond anything of a human dimension. For behind all of these things - whether we're thinking of what a beautiful person Missy was, or how much we miss her, or the beauty of music itself, or the talent of these young musicians from Biola, or the wonder of this place called The King's Academy - behind all of these things is God Himself, the God of the Universe. And it is Him that we must celebrate.
"And if we have learned anything in these almost eleven years since our loss of Missy it is this: Without Christ, all is lost; yet with Christ, all things are possible - even withstanding the loss of a dear daughter.
"We've learned about the peace that passes all understanding - for who among us could really have peace in the midst of a daughter lost, except through Christ? We've learned that this only comes by supernaturally placing faith in the solid rock, the suffering servant Himself, the One who bore our stripes, the Christ - the risen Christ - for through Him alone comes the hope of everlasting, eternal life.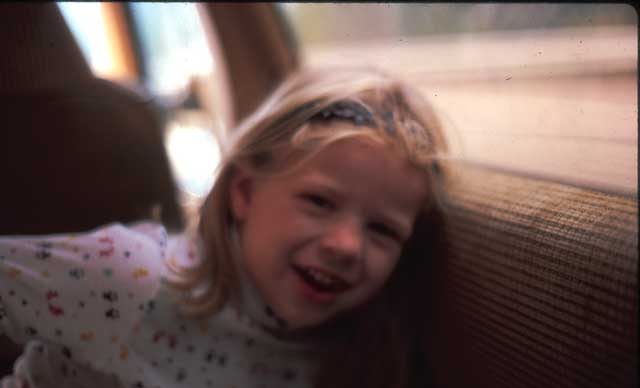 "So tonight we are grateful for this beautiful musical tribute to Missy; yes, we are grateful for every moment of this program.
"But we must acknowledge even as we say these words that it is Christ alone who brings comfort and peace, it is Christ alone who brings hope and eternal life. He alone is the way and the truth and the life, and it is to Him that we give glory this night.
"For it is not about King's; and it is not about Biola; and it is not even about Missy - except inasmuch as we celebrate how each one of these - The King's Academy, Biola University, this beautiful gift of music, Missy's life, even us in our grief - how each one continues to declare and bring glory to God the Father, and the Son, and the Holy Spirit. Amen."