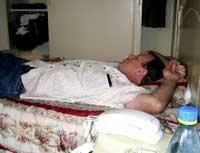 Sunday February 20, 2005
The day after the wedding and festivities. A great day to sleep in - yes - and a great day to take as a lazy day around Valparaiso.
A late light breakfast at the hotel, leisurely planning the day ahead which would include a walking tour of the neighborhood nearby where there are some artist's studios, interesting houses, and cobbled streets to wander around. We had seen a small café on one of our other jaunts around - a little place that had a sign out that said "Hoy Almuerzos" (Today Lunch) and we had wished we had stopped in then - so we put that on our list of potential places for lunch. As it turns out, they were open for Almuerzos today and we had a wonderful lunch of salad, bread, wine, lasagna, and fruit for dessert.
Perfectly wonderful food in a place straight out of the American 60s hippy days! The Color Café! Colorful posters and nicknacks, a waitress in a tie-dyed long flowing skirt, vegetarian healthy food - and to top it off, a travelling minstrel performer commanded our attention with the clanging of a bell and performed a lovely soliloquy with a deep booming voice. Humorous stories flowed - one about a woman who gave birth to an unexpectedly black child and upon presentation to the husband declared, "I guess that's what happens when you do it in the dark!"
We then walked around the neighborhood, found the watercolor artist who had a piece for Lana and Ignacio (the gift from Aida and Joaquin), and we toured an artist studio/school where there were many works by local artists depicting scenes from Valparaiso and Chile. One piece was even entitled "Cerro Baron," painted in the same neighborhood in which Ignacio grew up.
Lana, Ignacio and I then went up to Cerro Baron for a light dinner at his parents' house - a little Onces - prepared by his mother and his sister Lola. We had a great time in conversation and touring the grounds again - what a beautiful spot and what lovely people. His mom told a long story about an illness that she had in which she was quite ill for a long time - she thinks it was tuberculosis. She was sick for several months and at the height of the illness she awoke one night with a dream like vision of a bright light and a man calling to her - calling her to the other side. She prayed for more time here on earth because Ignacio - her baby - the huahua of the family - was not yet married. She still needed to care for him. She fell back asleep and when she awoke the next morning she was feeling a little better for the first time since she had taken ill, and then continued to improve daily until she regained her health completely.
The church that his parents attend is a little ways up the hill from their house - and throughout the onces we could hear the singing or the muffled sound of preaching. It formed quite a beautiful and peaceful backdrop for our time together. Toward the end of our meal, we went up to the church for the last 15 or so minutes of the service. The singing by the group was exhilarating and beautiful. One young man in particular stood out - he appeared to be about 15 years old or so, was playing the guitar quite well, and sang like an angel. He was the only one I could see that had a microphone and his voice was distinct among all the others - beautiful! Lana spoke for the family saying how thankful she was for being welcomed into the family and the church community there. We all felt genuinely welcomed by all we met.
For a day of rest, this was quite perfect!