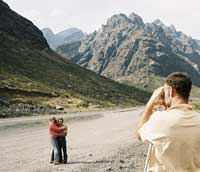 Wednesday February 16, 2005
Today was to be our long day on the road back to Valpo - estimates ranged from 6 to 9 hours and we promised ourselves we would get an early start.
We awoke around 9 am, got showers and out to breakfast on the veranda - meats, cheeses, cereal, juice, coffee, breads, and toast - talking with Ignacio of the history of Chile. Valiant warriors - fending off attackers throughout a long history of attempted conquests. I explored the pool area and was surprised to find a llama in the field next to the pools.
Ignacio joined me - he loves animals! - and we then found not just one but two llamas on opposite ends of the field. The near one was pregnant and quite nervous - so we left it and went to the other end. This one allowed Ignacio to come close but bared its teeth a little. He persisted in petting its forehead - until it gave a gigantic sneeze that showered him with putrid spit and snot amidst a cloud of noxious gas that I could smell from 12 feet away! Ugh! Gross! Later, after we cleaned up and all laughed like crazy about the incident, Ignacio said, "I should have known better. Llamas are known to spit at their enemies." Well, spit it did! And highly effective at keeping "predators" at bay!
We then packed up, paid and departed - west to La Serena and then south on the Pan American Highway. Long drive ahead, but pleasant conversation all the way.
We stopped in Los Vilos for lunch - a rustic fishing village with a large beach heavily used by vacationing families. Ricardo - a local youth - offered to "watch" our car for us when we parked up the hill from the beach. Later we gave him 200 pesos (about 50 cents) for his good work. During our time there I ended up making a few trips to the car for film or other errands and had several delightful conversations with him, learning among other things that he smoked (he asked if I had any cigarettes). My encouragement to him to stop was met with smiles and a laugh!
Lunch was at the Cafe Hawaii - a great little place overlooking the harbor and beach area. An older family run business, simple but great food - fish, shrimp, oysters, clams, bread, beer (our usual fare!) - in a clean simple place. Perfect!
Now back on the road again - on to Valpo. Our choices eventually included either Route 5 inland through La Ligua and Nogales or to turn off the main highway to take the coastal road. We chose the coast, of course. Turning off the highway we followed Ignacio's excellent directions and ended up on a dirt road beside a vegetable garden - and while there we watched a mini-drama of a cowboy roping a runaway foal!
We eventually found the correct coastal road and drove on through some beautiful pastoral towns to the coast, turning south at Papudo and the Punta Pite peninsula toward Valpo. There we passed through several scenic, lively coastal towns including one that rivals Carmel and 17 mile drive - Zapallar. Well landscaped mansions overlooking the blue clear Pacific, a little oceanside kiddie park with pony rides - kids actually riding around with their servants following behind, few parents in sight!
We passed through La Laguna, Puchuncaví, and Concón on the way to Viña del Mar - it a very busy upscale seaside resort, not unlike Santa Monica in the States, with high rise condos and nice shops along the coast - and we eventually arrived at the hotel in Valpo around 10 pm.
Found our dinner spot at Cinzano's near the hotel - a jumping little spot with live music, singing and dancing by the patrons, the "rooster dance" (a national specialty dance in which a couple gets up and follows the lead of the song - he woos her, she plays hard to get, then she gives in - danced with each partner carrying a handkerchief - lots of fun!). A fun nightspot for sure - boisterous good fun, tables crowded together, good food, high energy! We couldn't help meeting the family next to our table - three generations present and all very interested in these gringos and the upcoming wedding for us! We were a unique sight - except at the airport we ran into zero Americans, and only a handful of Europeans or Australians, our whole time there.
Slept soundly after this long wonderful day!