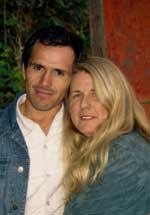 Sunday February 13, 2005
Arrived in Santiago today. Long overnight flight on American Airlines, uncomfortable fitful sleep, stiff neck this way and that, sore rear end that never seemed to find that comfort zone. But morning light finally appeared on our left and eventually the northern Chile coastline appeared on our right. Rugged mountains, desolate valleys with sparse roads and no evidence of any human population centers until we arrived closer to Santiago. Finally we passed over several valleys that did contain cities and towns, green vegetation along the valley floor until we landed in the metro area of Santiago.
We disembarked last because of Skip's crutches - passed through customs without problems and found Lana, Ignacio, Jeff and eventually Luis, the guy from the rental company (United)! Big hugs with Lana and Ignacio - he appeared handsome, gentle and kind - as in his picture - and we exchanged greetings. The rental guy then took over - directing us to the car. Papers were signed and off we went - following Jeff through Santiago traffic toward Maipo.
Jeff took us first to a church their group had planted in these past years - he has been in Chile for 28 years! - one of his six local churches, along with several other South American and at least one Iraqi church. We arrived in the midst of Sunday service just in time for Communion - what a glorious introduction to Chile - Holy Communion with fellow believers! A wonderful worship time followed (the first chorus was one we also sing in my church at home!) with a group of about 50 or so Chileans - and then we said our goodbyes and we were off, to pass by another church and then on, and into, a third - the place we were to have lunch.
We arrived about 12:30 but lunch was at 2, so we left after a time to Jeff and Kathy's house for coffee and cookies - and to watch an incredible video of their last time in Iraq just after Saddam Hussein was captured - great celebration of the Iraqi people. We met his three sons and one daughter. Oldest son is married (Chilean wife, two kids) and the daughter is to be married on February 19 - lo mismo que Lana (the same as Lana)! Then off to the church again for the lunch, prepared with love by a couple from the church. Empanadas and roast chicken (pollo asada) - all cooked in an outdoor brick oven - with several salads, bread, tea, and ice cream for dessert!
Oh, what a feast and what great fellowship. His sons are headed into missionary work - one to Morocco to start a surf shop, another somewhere else to teach. We stayed from 2:30 to 5:30 and had the most delightful and pleasant introduction to Chilean people and culture. As it turns out, this was a microcosm of things to come!
Then on to Valparaiso - a car journey of 90 minutes or so through a long valley leading out to the sea - well planted farmland with crops and vineyards. Ignacio had to stop at his house to pick up some papers - and I was asked to look at the place his parents were building - which I did, of course. I found a two story cinder block house, partially finished, with his father and mother, a sister, some young children home. This was being built by his dad to replace the house Ignacio had actually grown up in - a dwelling that now was literally falling over! We all exchanged greetings and then went down to the garden - a garden of delights! Fruit trees, vegetables, lots of greenery in this valley hillside. Avocado, peaches, figs, apples, in a lush plot reaching to the bottom of the valley where a thin ribbon of a brook was running.
Then on to the hotel in downtown Valparaiso - to arrive there we traversed the city, finding a vibrant old city with a very European flair in the architecture, the crowds, the number of people walking the streets, the commerce, and yes, the noise and dirt.
The hotel was also very European in character. A narrow building off a plaza teeming with shops of all sorts, with a boisterous busy bus station out front.
We checked in, rested an hour or so, showered and reconnected with Lana and Ignacio. They knew of a small place a short distance from the hotel for dinner. We walked along the street and they turned in to an alley - Skip and I looked at each other, with a Huh? look - and proceeded after them. At the end, sure enough, was a restaurant - "J. Cruz" it said on the door - and in we went. We were greeted by a riotous crowd of families, couples and foursomes young and old, all chattering away in loud Spanish, laughing and obviously enjoying themselves.
The decor was a mix of graffiti with quaint and unique collections - everywhere you looked there were inscriptions from prior patrons (Lana and Ignacio looked for theirs), and everywhere else was a collection of this or that interesting bit of memorabilia - from Hollywood to the sea, to the odd and curious, there seemed to be a collection. Their menu was simple - you ordered a single or double of the only dish on the menu - one of great fame in this area apparently - chorillana - a bed of French fries, piled with sautéed onions, and topped with beef chopped, cooked, and sauced. High calorie and good! We left there a little after midnight and found a pub with live music - back to the hotel at 1:30 or so.
What a glorious day one!