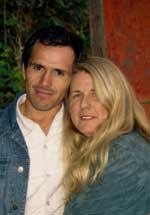 Thursday February 17, 2005
Today was the big day of Aida and Joaquin's much anticipated arrival from Santiago, where they had been holed up for a few days after hitting the ground in Chile from their home in Florida. We had all arisen and had our by now normal leisurely breakfast at the hotel, expecting them to arrive by bus or private car by late morning. We weren't disappointed when around 11am they entered the hotel amidst great hugs and kisses and other assorted greetings as we all rushed to say hello!
Aida and Lana had gotten to know one another in Spain several years previously and had stayed in touch by email or calls or letters - but this was their first meeting since their Spain days - a great reunion! And it was the first time for Joaquin and Lana to meet - and of course it was the first meeting for all the rest of us - a great addition to our Chile wedding celebration group!
While we had been touring the La Serena/Pisco Elqui area, Aida and Joaquin had been seeing Santiago up close and personal - and we quickly decided that today should include a walking tour of parts of Valparaiso, including the harbor area and the little artists' area above the "Bohemian District" - using the famous ascensores to move from the lower harbor level to the upper level of Valparaiso.
Joaquin wanted take everyone to lunch - he had found a particular restaurant that excited him - the Brighton - for its view, its food, and its ambience! We were not disappointed! In fact, we had seen it during our tours along the lower level of the city - it is a striking bright yellow ornate building that sits high above the lower section on a point that makes it visible from many locations in the city.
A word about Valparaiso - first of all, it is hard to pronounce all the vowels in the name and many people shorten it to Valpo - but also, it is a beautiful seaside city, the largest shipping center in Chile. The population is about 300,000 in Valpo and about another 300,000 just north of the city in Viña del Mar, which forms the northernmost tip of the Bay of Valparaiso. The city has a lower section - just above sea level - in which the harbor and a large section of the city lives, and an upper section upon which the majority of the city resides - comprised of hills and valleys with houses built sometimes crazily into and on them. The two sections are separated by a steep cliff that has severe switchback roads connecting them - and also a series of 25 cable car type elevators that carry pedestrian passengers in little groups of six or eight people. These cable cars - called ascensores - are operational today (some were built as early as 1883) and are still actually used by citizens "commuting" up or down the city. Fascinating ride and a great view!
So we left the hotel on foot, headed for the harbor where Ignacio treated us all to a boat tour of the bay - all of us, including broken legged Skip - in a little launch that motored around giving great panoramic views of the city as well as great close up views of the fishing fleet and the commerce coming and going. Coming out of the harbor was a little tourist area where you could buy little souvenirs or postcards - which we did in some small amount - and Skip noticed a cute little knit cap on a saleslady's head with which he was particularly taken (the hat not the young lady!). Inquiring about where he might obtain such a cap, he was told that she made it and she could make him one too. He could pick it up tomorrow! Interesting thought, but too difficult to get back to tomorrow. Now he wishes he had made the arrangement!
Leaving the wharf and harbor area we made our way to the foot of the cliff and found the ascensor that would take us up top. Great fun to get on board and ride the clickety rail up at about a sixty degree incline! Up top we found some artists selling their wares, some shops, crooked streets, wildly painted houses, a little old man tending his tiny little rose garden out front of his white two story house behind the white picket fence, a beautiful old stone church with parsonage attached, and finally, the Brighton.
Lunch at the Brighton was, well, as spectacular as the view. A large umbrella shaded us from the bright sun, the bay was visible over 180 degrees from Viña to past the harbor, and we could see hills and valley above us as the city receded to the north. Even Neruda's Valpo home was within sight! The food rivaled the setting - a wonderful array of fresh fish, mariscos, veggies, bread, wine, and beer - and there was even a minstrel group playing period instruments who came to serenade us all. By the time we had walked around and about to get back to the hotel we were all ready for a little nap - ah, wonderful rest!
Dinner plans fell to a little bar/cafe/club we had seen earlier - looked like live music happened some of the time, but not tonight - thankfully, as the CDs the owner chose were alternately mellow and upbeat, peaceful and alive, and then, after he learned we had some Cubans among us, Latin dance music! And Aida and Joaquin did not disappoint - getting up without hesitation to mix it up on the dance floor, which turned out to be the area of floor around our table, as there was not really any such thing as a designated dance floor! A pleasant place to pass our evening together, we stayed until near bedtime - walking back to the hotel close to midnight.
Another great day! Another view of Valparaiso!