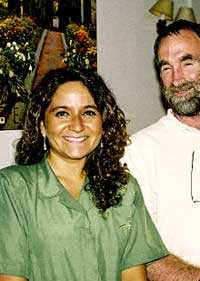 Monday February 21, 2005
We planned a long road trip to end our time together - and had planned on an early start. But we enjoyed a long breakfast - Skip was enchanted by the waitress - Sandra Pacheco - she lives on Cerro Alegra, age 31 - and we went to a CD place to get a gift for Paqui - and we turned in our film - Ignacio's cousin works there.
So we didn't leave Valparaiso until 12 noon! We drove out through beautiful country, passing north of Santiago to Los Andes where we stopped for lunch. After much searching, and fending off a mildly aggresive maitre-de - we think he was just trying to be helpful! - we settled on a little café tucked in behind a dark vegetable market with bins and racks of a multitude of freshly delivered produce being tended to by shopkeepers who were themselves watching their little television sets up above the cash registers.
Here we had a fantastic lunch of varied marisco, fish, meats, salads, bread and wine. The young - and very beautiful blue eyed waitresses - were cute in helping us with the selection of food and wine.

Then back on the road again, on eastward to the Andes! This gorgeous verdant fertile valley - the Aconcagua River at the bottom with towering rugged peaks and glacial slides all around - until we arrived at the higher elevations beyond Rio Blanco, at least - after that point the vegetation thinned considerably. At the last moment before reaching the Argentina border, we climbed an intense series of switchbacks - along with a convoy of commercial trucks loaded with produce and other goods headed eastward - up to reach the continental divide. At 3863 meters (12,674 feet) with still higher peaks surrounding us, this was some impressive landscape. We visited an alpine lake (Lago Inca) with an associated lodge about a half mile from the border - deep blue water, high windswept peaks all around.
Our plan to spend the night in Argentina was thwarted by our lack of proper insurance for the rental car - rats! - and we enjoyed the moment at the top a little longer, then headed back down, retracing our steps along the switchbacks - 28 of them! - behind yet more trucks! A new plan for lodging quickly formed in our minds - unanimous of course - we would head for a little town we had seen a sign for but had passed by on the way east - San Esteban! What could be better than an overnight in my namesake - Saint Stephen!
Following the signs to San Esteban we began to notice another set of signs pointing to Termas el Corazón (Heart Hotsprings) - and realized that where there is a hot spring there will be lodging - so that became our new goal - Termas el Corazón in San Esteban. Down one country lane and up another, out in the farm land boonies, we finally came to a gated drive, spoke to the guard there who called in to the hotel, raised the gate and waved us through. Down a long tree lined lane we went, up to an impressive series of buildings and domed pools, taking note of the fine linen table cloths and nicely groomed plantings around these well tended buildings. We spoke to the owner, a very pleasant woman, who explained the program: They don't rent just rooms. They give an experience that includes the use of the pools - healing powers - and all our meals. We weren't up for all that - so she then surprised us by not just suggesting another place, but calling on ahead for us. So now we were off to Casa San Regis in San Esteban.
Finding it, by now well after dark, we secured a suite of two bedrooms with an adjoining bath. The rooms would not be ready for an hour, and our inquiry about food or drink was met with the suggestion that we could find some in town and bring it back. So now off to San Esteban, a tiny little town with a plaza and two adjacent "main" streets, but no market in sight. We asked a bombero (fireman) at a firestation for help and he directed us to a little market where we procured some meats, cheese, yoghurt, fruits, wine and coke - oh, some beef jerky, too - all of which we brought back to San Regis.
There the owners, Alexis and Marcela, set up a beautiful table for us outdoors by the pool under a black sky and joined us for our late night dinner. We enjoyed a wonderful time of conversation with them, quite moving actually. Their hospitality, kindness and friendliness was striking, especially for our last night in Chile. Marcela was very tender and sweet upon hearing Missy - and of course that endeared her to me. But it also probably contributed to my waking later in the night, thinking strongly of Missy and then finding tears filling my eyes and spilling down onto my pillow. Oh how I still miss her!